UTAH'S DETALING SERVICE
FROM COUPES TO SEMI TRUCKS WE ARE FULLY EQUIPPED TO HANDLE BIG AND SMALL DETAILING JOBS FROM INTERIOR CLEANING TO FULL PAINT CORRECTION.
REQUEST APPOINTMENT
Winter with Onsite Detail
Posted December 11, 2019 by Chris Blaisdell, Onsite Detail
Winter with Onsite Detail is awesome for you and your vehicle. Lots of people have tips for how to prepare for winter when it comes to cars. Lots of it is good- check your oil, gets snow tires, remember to take it slow on icy roads and avoid snow plows. Some of it is less than good, like throwing hot water on a frosted windshield. (Definitely do not do that!)
Preparing your vehicle for winter doesn't have to be so complicated, and here at Onsite Detail we have plenty of services to help get you ready for a Utah winter. To keep it simple, this article will list the services we can do to help you, including a special limited-time deal at the end, so stay tuned!
Wash & Wax
We have a secret- we don't use just any regular old wax. We use a hand paint sealant, which is more hydrophobic and protects from UV rays. It causes water to bead and fall away, and it lasts for 3-6 months. That's a winter season and then some!
Cleaning your car with a Wash & Wax service before and during winter really arrives not only prepares it for the near future, but also protects your vehicle from any dirt that can damage it faster that you collected from the summer and fall. Even if you have already begun collecting salt on your wheels, we are happy to clean and protect your vehicle's outer layers!
Headlight Restoration
Headlights are crucial in the dark months of winter, but even they need a little love. If you find your headlights are fogging up, we can help! For only $30 per pair of headlights, we can clear haziness caused by oxidation. This will dramatically increase brightness, which makes your car safer to drive in the dark and fog. Plus, it can help make a car look newer, which makes it a fun add-on!
Interior Detail
While weather typically affects the outside of cars, interiors should be considered as well. Mud and snow track in vehicles, and when it's cold it's not fun to clean the car despite this being a social and busy time for many! Any bacteria from trash, milk spills, or rotting food may be less prominent in the winter, but the warm seasons will mean they come back with a vengeance. You're busy enough with the holidays, so let us clean the interior- your Christmas party dates will be thankful!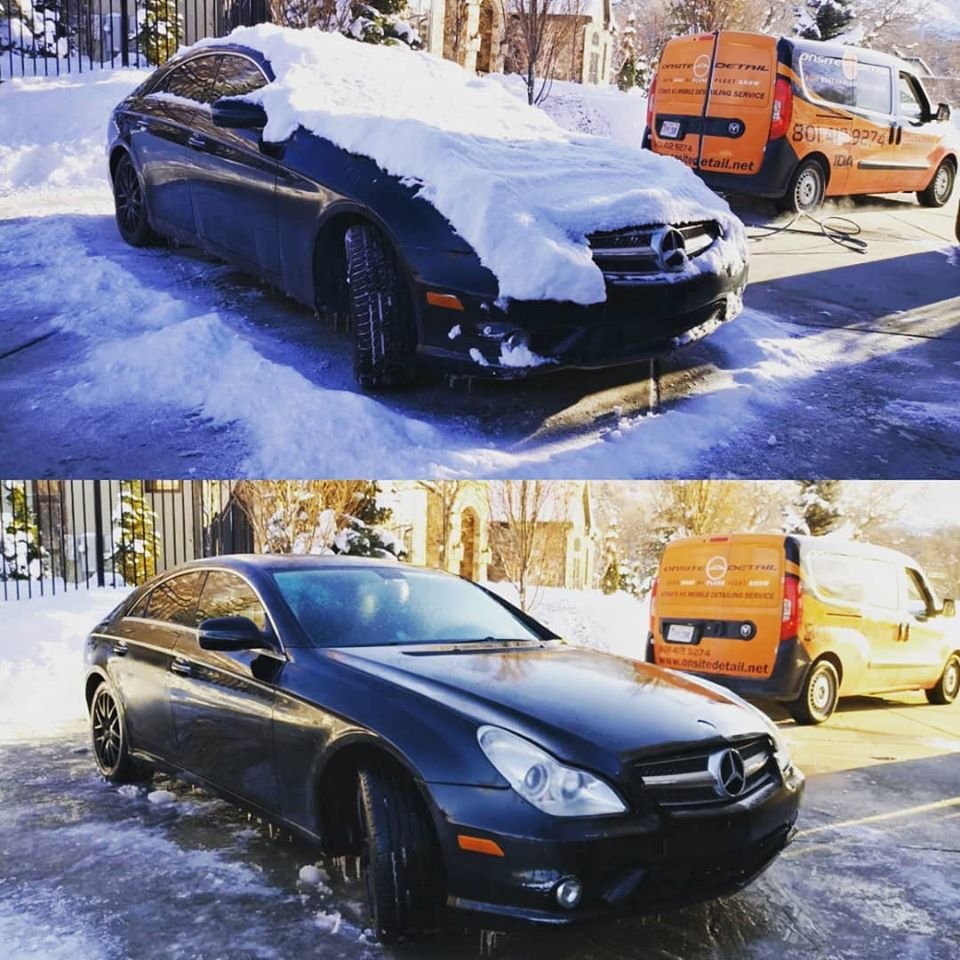 Windshield Treatment with Glassparency
Want to save money on wiper blades this winter? This is just one benefit of the many that comes with having us treat your windshield or windows with Glassparency. The rain, snow, and slush our cars get make seeing out of our windows difficult, and when the sun does come out, the ice around us can make a strong glare. Driving in Utah is hard enough!
Glassparency is a service and product we put on your windshield to help reduce glare and make it easier to clean. The biggest benefit? Liquids just glide right off! Customers who have gotten it say how they barely need to turn on their wipers when it rains because the Glassparency takes care of it for themselves. And with winter promising a few messy weather days, why not treat yourself to it? It won't be for just one winter either, as it comes with a three year warranty! Speaking of which…
Onsite Detail Winter Deals!
The time has come to share our detail deals! To celebrate our successful shop opening this year, we have added two In-Shop specials lasting through January 31st of next year.
Glassparency is one of them! If you do an Onsite VIP Detail at our shop between now and January 31st, you receive the Glassparency Windshield Coating (service, product, and 3 year warranty) for FREE. The Onsite VIP Detail is an amazing winterizing service, offering all of the services listed before and more, like Clay Bar Treatment, Engine Detail, and Plastic Restoration! All of those services protect from elements and have advantages before the difficulty of winter sets in.
If you don't need all those services but would like a good deal, you can opt for a Full Combo Detail instead. This is one of our most popular services, and if you bring it into the shop you receive a FREE Undercarriage Wash– an In-Shop exclusive that is normally $50-$100 in value!
If you want to take advantage of one of these winter deals, or otherwise schedule an appointment, you can call us at 801-412-9274 anytime or fill out a Request Form. We are happy to answer questions you may have as well! Winter with Onsite Detail is better than winter without Onsite Detail.
by Miranda Hughes, Onsite Detail