MOTORCYCLE DETAILING

includes:
Mobile Motorcycle Detailing
Wash & Degrease
Shine all metals including rims
Dress & UV protection on all vinyl & plastic
Clean & condition all leather
Hand wax painted & chrome surfaces
Extras:
Buffing & Polishing ($75 per hour)
Chrome & Aluminum Polish ($75 per hour)
Premium Waxing & Sealants (By Estimate Only)
*Pricing may be more for custom painted bikes
*Call for more info
FULL DETAIL $139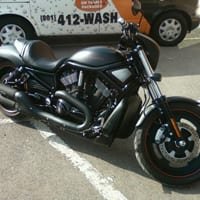 We accept cash, check and cards as form of payment. Prepayment or an Appointment Deposit is required to schedule a service unless otherwise stated. You may pre-pay for service or buy online to purchase a gift certificate.