UTAH'S DETALING SERVICE
FROM COUPES TO SEMI TRUCKS WE ARE FULLY EQUIPPED TO HANDLE BIG AND SMALL DETAILING JOBS FROM INTERIOR CLEANING TO FULL PAINT CORRECTION.
REQUEST APPOINTMENT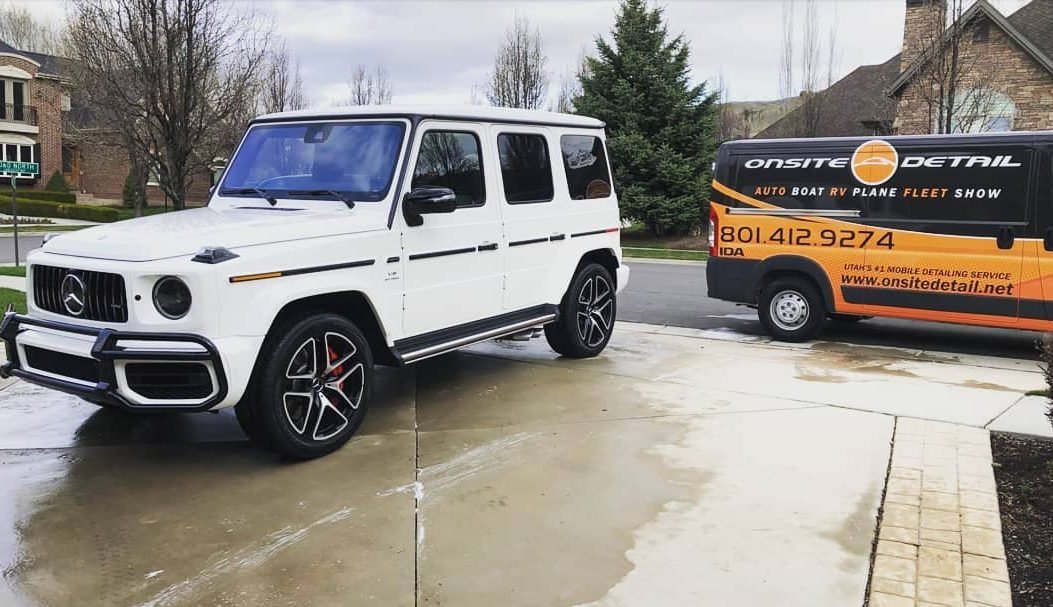 Utah Detailing Services Update
Posted May 15, 2019 by Chris Blaisdell, Onsite Detail
What do you imagine when you think of auto detailing?  Perhaps you think of shampooing the inside of your car, hand washing the outside, or waxing it until the outside shines.  All of these are things we do at Onsite Detail, keeping your vehicles clean, shiny, and clear of impurities that can cause future problems.  Everything from Wash & Wax jobs to an Onsite Elite Detail is part of our roster of services we love to do! However, we at Onsite Detail like to expand what services we can offer you.  So this article acts partly as a newsletter, a sort of announcement to four services we have added to better serve Utah's vehicle owners. This article will be describing each one, and hopefully, you will feel the excitement we do about having them!  
In-Shop Service
While this is not brand new, it is worth stating again that Onsite Detail has opened its first shop!  Located in Murray, our space allows for you to bring your vehicle to us to work on, as well as provide a few added benefits. As the summer season picks up, mobile services can take five to seven days to schedule, but in-shop allows for earlier times.  We can also hold vehicles overnight as we have secure garages. In-shop is especially beneficial for people who live farther away, as coming to us removes any travel charges we may need to charge. It's also great if you live or work close by. What is even better is this new space has allowed us to add some specifically in-shop services, as we will list below!
There are some limits, such as not being able to service really large vehicles like RVs or motorhomes.  However, the quality of service and the costs do not change whether we go to you or you come to us (save for the travel charge if it applies to you).  Come take advantage of the new space by filling out a Request Form and choosing In-shop, we are looking forward to seeing you!
Deep Odor Removal Service
Originally we had one method for helping with long-term smells, such as smoke, mildew, or mold, which was the Interior Detail plus an Odor Bomb.  The benefits were that it was mobile-friendly and easy to use, but we found that it couldn't help every smell situation. It had better success with temporary smells but not for long-term ones.  That is why we added a second method: Deep Odor Removal.
Deep Odor Removal is done after an Interior Detail and requires we keep your vehicle for one night, but has incredibly higher effectiveness at removing the deep-seated odors that Odor Bombs just cannot penetrate.  Recently it was used to help clean the inside of a camper whose fridge had food left in it for so long it developed maggots. It reeked and had been there so long an Odor Bomb would only provide temporary relief, but the Deep Odor Removal made it travel-ready again.    
Glass Protection
One new service we are all very excited about is Glassparency, also known as Glass Protection.  It is a special hydrophobic application we place on your windshield or all windows of your vehicle, including sun and moon roofs.  Doing this gives you special advantages, including:
Easier Cleaning

: Ice, dirt, and insects are significantly easier to clear off.

Better Visibility

: Rain, mud, and all sorts of other visibility hazards fall off effortlessly, which has the added bonus of keeping your wipers good for longer!

Reduces Glare

: In our sunny Utah summers, that's always a benefit and adds a safety factor that can't be overlooked.

Protection

: It helps prevent mineral build-up and corrosion to keep your glass stronger for longer.
To add to the benefits, maintaining this protection is easier than ever with the 3-year warranty you can get for it.  With a few reminders via text and/or email, you can bring it to us and get it touched up so the product doesn't wear off over time.  Just bring it to us for a few minutes and you are ready to go!
This service is a great add-on to our Ceramic Coating installation service, but you do not need to get a Ceramic Coating to get Glass Protection!  Bring your vehicle to our shop and we will happily apply it, it's a product we love so much we have applied it to our own vans and some of our personal vehicles.  
ATV and Golf Cart Detailing
While this one is not in-shop exclusive, it's a newer updated service that many do not yet know about.  Before we had no pricing for vehicles the size of cars that were not, well, cars. ATVs and Golf Carts now have set prices and procedures for detailing, just in time for them to shake the dust of winter off!  Plus, because these are smaller, our in-shop space means you have the choice of us going to you or you going to us, for no changes in price. Shine up your toys before you explore Utah's off-roads and golf courses in style, or bring them here before they get stored again for the winter months!  These vehicles are for leisure, so let us take care of the details.
We at Onsite Detail are excited about these new services, and can't wait to show them off to you.  You can check out our website for prices or call us at 801-412-9274 ext. 1 for more information! Let us do the detailing so you can kick off your summer all ready to go!
by Miranda Hughes, Onsite Detail