The CERAMIC COATING SERVICE: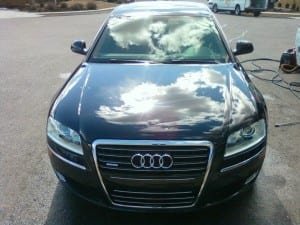 WHAT IS A CERAMIC CAR COATING?
The creation of ceramic coatings has changed the way people protect their vehicle's exterior surfaces. When compared to a traditional car wax or paint sealant, a ceramic coating forms a much harder, thicker layer of protection, enabling it to last considerably longer. Ceramic coatings form a strong and durable layer of protection on many of your vehicles exterior surfaces. Not only does a ceramic coating provide exceptional protection but the depth and gloss that can be achieved are truly astounding. When kept clean and with proper maintenance your vehicle will have a deep glossy look for years!
Click on each coating option below for more information.
CAN CERAMIC COATINGS BE INSTALLED ON THE INTERIOR?
There are coatings and protectants that can be applied on the interiors of vehicles. Onsite Detail is authorized Installers of Opti-Guard Leather and Vinyl as well and various carpet and Fabric Protectants. Please ask us about these other services if you are interested.
Ceramic Coatings can be installed on;
Automotive Paint
Automotive Wheels/Rims
Marine Gel Coat
RV Paint and Gel Coat
Vehicle Vinyl Wraps 
Commercial Vehicles
Paint Protection Film (PPF or ClearBra)
We accept cash, check and cards as form of payment.
Prepayment or an Appointment Deposit is required to schedule a service unless otherwise stated. You may pre-pay for service or buy online to purchase a gift certificate.