UTAH'S DETALING SERVICE
FROM COUPES TO SEMI TRUCKS WE ARE FULLY EQUIPPED TO HANDLE BIG AND SMALL DETAILING JOBS FROM INTERIOR CLEANING TO FULL PAINT CORRECTION.
REQUEST APPOINTMENT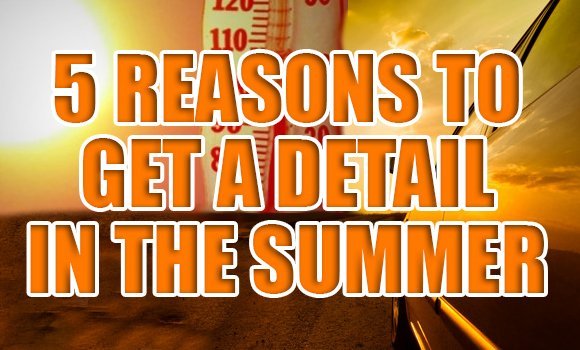 Top 5 Reasons to Get a Detail in the Summer!
Posted June 12, 2019 by Chris Blaisdell, Onsite Detail
Should you get your car detail in the summer?
Summer is upon us!  National Parks are open, the weather is clearing up for an outdoor activity, and you've likely got a vacation or two planned.  Most of us are ready to hit the road and go on as many adventures as possible before we see "back to school" ads again.
However, before you load up your vehicle, I recommend taking a good look at it.  Whether it is your car, your RV, your motorhome, or your boat, you should seriously consider getting a detail at some point this summer.  We're not suggesting that just because you probably have a family event or two lined up! There are many benefits that come from getting a detail, and this article will tell you five of those benefits.
1. Preparing for Big Trips
Summertime is when many people take to the road, from getting on golf carts and ATVs to taking long road trips across the country.  Some of these vehicles have likely been in storage, waiting for their owners to pull them out and gas them up for another round of memory-making.  Before you jump into the driver's seat, though, consider getting at least a detail in the summer or a quick wash and vacuum of the vehicle, like with our Express Inside & Out service.  This not only gets the winter dust off but sets the tone for the rest of the season. Having a clean vehicle now can be a good motivator to keep it clean over the summer, which is especially important because the heat alone can make messes worse!
2. Heat and Bacteria
A mess any time of the year is less than fun (in fact, it's no fun at all).  However, some messes are worse when it's hot outside. Dairy spills are a good example of this.  Heat trapped in a vehicle can cause dairy from spilled baby formula or lattes to produce more bacteria that stinks up the whole inside of the car.  Foods that get forgotten or missed can also start to mold quicker in hot cars and can attract insects or rodents.
Our detailers are trained to work in hot weather conditions and do great work cleaning up vehicles with bad spills and messes.  Interior Details are one of our most popular services that not only remove mold and stains but also make the inside look almost new.  Our newest Deep Odor Removal service is also a good choice for anyone with a really smelly situation. A recent example is a customer who had food left in their RV for weeks without refrigeration, which eventually attracted flies and maggots.  The Deep Odor Removal and Interior Detail made it like it never happened after only a few hours! You can depend on us
3. Protecting Your Vehicle
Our services don't just help with making your vehicle clean and shiny; we help keep your vehicle protected as well.  Our paint sealants and Ceramic Coating help keep paint and gel coats protected from weather, dust, and other contaminants you pick up.  This in turn helps fight oxidation and other tricky substances, such as hard water and tree sap. Our Glassparency Window Coating service helps prevent bugs from sticking to your windshield and helps keep water off it, which is good for everything from sprinklers that leave hard water to boats that get sprayed from lakes!  You can contact us to learn more about our protective services, which will help keep your summer toys lasting for years to come.
4. Impress Your Family & Friends
Summer is one of the most social times of the year because many of us have vacation time to spend together.  Your near future may include bringing kids to sporting events, traveling an hour to visit someone for dinner, and going to Moab for a few a short getaway.  Lots of people will be in or around your car, so why not make it look nice? You paid a lot for it, so make it shine for your family and friends! You can utilize our Paint Correction services to remove scratches and swirl marks, Plastic Restoration to make the plastic and rubber parts look like new, and Pet Hair Removal to clear it of any of our furry (but sometimes allergy-inducing) friends' shedding.  If you have a spill, smell, or stain you'd like taken care of before going to that Pioneer Day family reunion, you can count on us to make that happen.
5. Returning from Summer Trips
As with all seasons, even summers must come to an end.  While we have been talking about getting ready for summer, we know some of you may have already gotten a head start on it.  Why spend all that time preparing when your car is just going to get dirty again? Utah's roads are known for their dustiness and kids will spill just about anything because, well, they're kids!  
When summer does wind down, even if you've not gotten any detailing done, consider us to detail your car in the summer.  Add a Child Seat Cleaning to your Interior Detail to prepare for your kids going back to school, wash and wax any of that dirt and sand from your car, and wash & wax your RVs and boats before storing them.  Keep in mind any preventative services you may want before cold and rainy fall seasons arrive- it's easier to remove hard water and tree sap when it's still warm than when it's raining or snowing! Plus getting a wax or paint sealant can prevent oxidation and rust.  In fact, we recommend it- waxing is much cheaper than removing rust and oxidation after all, and it takes much less time!
There are benefits beyond these, of course, but these are some of the more popular reasons you should consider getting your vehicle detailed at least once this summer.  Our calendar is filling quickly, so send in a Request Form or call us today at (801) 412-9274 to get your vehicle taken care of! Let us take care of the details, you have a summer to enjoy.  We are looking forward to hearing from you!
by Miranda Hughes, Onsite Detail