UTAH'S DETALING SERVICE
FROM COUPES TO SEMI TRUCKS WE ARE FULLY EQUIPPED TO HANDLE BIG AND SMALL DETAILING JOBS FROM INTERIOR CLEANING TO FULL PAINT CORRECTION.
REQUEST APPOINTMENT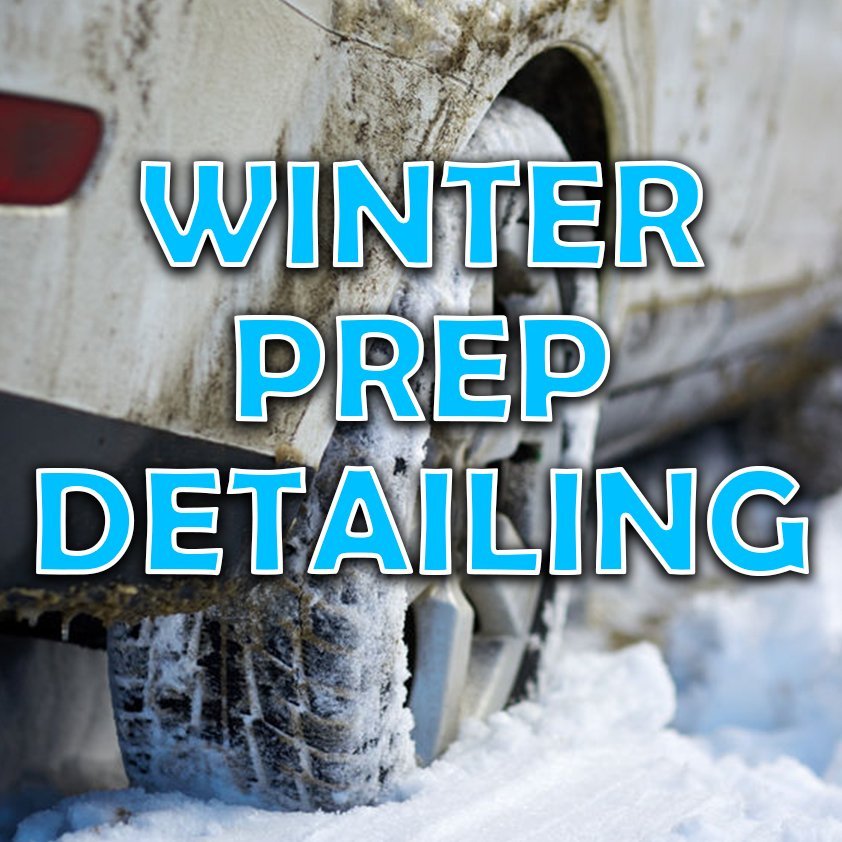 Winter Prep Detailing
Posted October 28, 2019 by Chris Blaisdell, Onsite Detail
Getting Ready for Winter
In Utah, the hardest thing we put our vehicles through is the winter. Winter time in Utah causes all kinds of problems for our vehicles. Not only is the cold weather hard on the engine and other mechanical parts but cosmetically our vehicles take a beating during the cold season.
During the Utah winter it is impossible to avoid getting snow, ice and road grime on your vehicle. Now modern vehicles are made to withstand some of "the elements" but they are not invincible to them. The longer we let these things sit on our cars the more potential there is for damage such as scratching, corrosion and cracking. The most common type of damage is scratches in the paint. As snow and ice slide around on the surface of a vehicle with embedded dirt within, it will cause damage. This also occurs as we "brush" snow off our cars. Unfortunately sometimes this type of scratching is inevitable but the more carefully it is done the more chances we have that we are not harming the paint. I have seen instances where people have literally gouged the paint with the ice scraper. Please do not use the ice scraper for paint. It is intended for windows only. It can also help to warm the car before starting to clean off the snow and ice to help melt and loosen up some of the ice and snow.
Vehicle Damage during Winter
The relentless attack on your vehicle from the road salt and chemicals that are used to melt snow and ice will slowly eat away your vehicle's exterior surfaces, including paint, plastic, rubber and metal. Even interior surfaces will get contaminated with salt and chemicals when you track them in after walking through the winter wonderland that surrounds us. Have you ever noticed that white build up on your interior carpets or mats? That is road salt that has been dissolved in water and reappears as the water evaporates. It left untouched all winter it will build up and slowly caused irreversible damage. This is why winter prep detailing is so important to avoid unnecessary damage.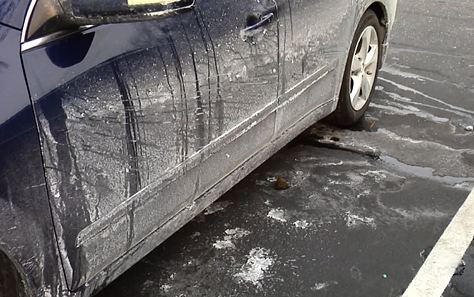 Protect Your Vehicle
As mentioned above the winter is really hard on your vehicle. This means you should be doing everything you can to protect your vehicle if you want to preserve it and keep it in its best shape. Both interior and exterior surfaces are needing extra care and attention to help them endure the constant attacks from the environment. We offer exterior, waxes, sealants and even ceramic coatings to protect paint all year round but especially during the winter months. Having a ceramic coating installed will help to minimize this issue as these types of coating are much more scratch resistant than vehicle paint. Ceramic coatings also make it harder for things to stick to or sit on the surface which makes it easier to clean. The ultimate protection would be our Opti Coat Pro+ with a 7 year warranty. We also offer Glass Coatings to help with the pesky ice build up on the glass during the winter. We also offer fabric and leather protection for your vehicle interiors.
One thing that is very important before your vehicle can be properly protected is the proper cleaning and detailing. Interior dirt and grime must be removed and everything sanitized. The exterior must be fully decontaminated and properly prepared so the protection can properly attach to and bond with the surfaces. We offer many different levels of full details from the Basic Combo Detail to our Onsite Elite Detail depending on what your vehicle needs and what you want.
Winter Prep Detailing
Winter vehicle preparation detailing is a very important in Utah. When a vehicle is not properly cared for it only shortens the life and resale value of it. Too many people don't realize how hard winter can be on their car and wait until spring to address the issues. By then the detailing can be significantly more costly. Please give us a call, send us a text (801) 412-9274 or e-mail if we can help with your winter prep detailing needs. Or you can fill out an Appointment Request Form.
by Chris Blaisdell, CD-SV, Onsite Detail
Chris Blaisdell is the owner of Onsite Detail and has been detailing  for 12 + years.
He is a Certified Detailer-Skills Validated detailer through the