UTAH'S DETALING SERVICE
FROM COUPES TO SEMI TRUCKS WE ARE FULLY EQUIPPED TO HANDLE BIG AND SMALL DETAILING JOBS FROM INTERIOR CLEANING TO FULL PAINT CORRECTION.
REQUEST APPOINTMENT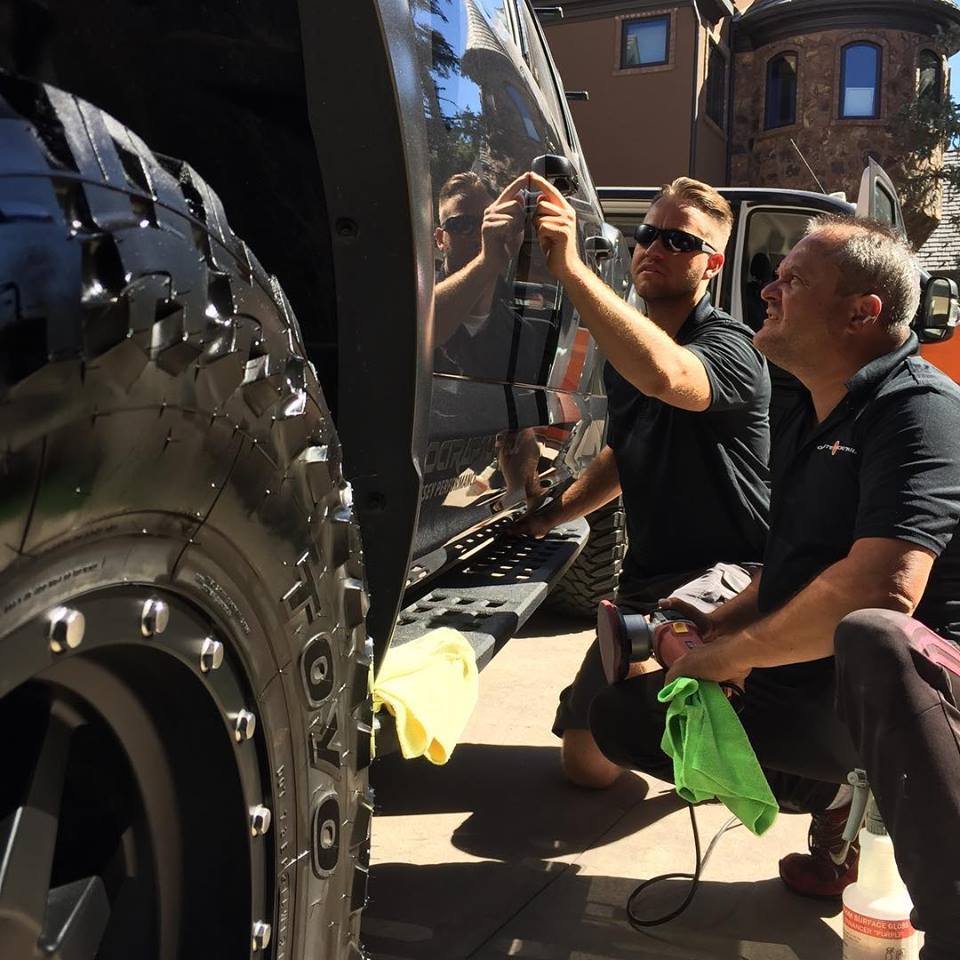 What Sets Our Detailers Apart
Posted September 4, 2019 by Chris Blaisdell, Onsite Detail
There are some questions I receive regularly when helping schedule our detailing services.  Things like how long a service takes, how much it costs, and where we are located pop up daily, if not hourly.  One question has begun to arise, however, and that is how good our detailers are.  
I personally can say firsthand I know how good our detailers do, as I have seen the fruits of their labor on many vehicles, including the cars of my family!  However, our detailers are more than that. They are skilled, hardworking, and care about the job they perform. So today, I'm going to take the opportunity to put our detailers in the spotlight and share what makes them amazing!
They are experienced and professional
Every so often I get a question about our detailers, namely if they actually know what they are doing or if they are some high school summer hire.  Each of our detailers has been doing this job for a long while, and whenever we hire someone new they are trained thoroughly and given time to learn our processes fully, having another detailer work with them until they are deemed ready to work solo.  This helps perpetuate the work ethic and tone of the company, and allows the new person many chances to learn a variety of tasks. We are continually doing trainings to refresh our knowledge and to stay up to date with the most efficient and effective ways to complete details. Since we are a small company, we also get to know each other more personally, allowing us to explore strengths and weaknesses to help raise each other up.  They love a chance to show how professional they are, something we are always glad for! 
They are IDA certified
The International Detailing Association, or IDA, states on their website that "leading industry association for professional detailing operators, suppliers, and consultants to the industry. The association is dedicated to promoting the value of professional detailing services, the recognition of professional detailing as a trade, and empowering detailing industry professionals at each stage in their career."  Part of our being involved with this association is that our detailers undergo a special certification which includes a ten-part exam and a practical test of their ability. When presented with this opportunity, many of our detailers have risen to the challenge, and all who have risen to it succeeded! When our detailers arrive on the job, you can rest assured they know what they're doing- the IDA has declared it so.  
They love a job well done
Our detailers come from all different backgrounds and can be very different from one another.  But if there is one thing they all have in common, it is knowing they've done a job very well.  
We have given them all kinds of seemingly impossible tasks, and they have stepped up time and time again.  Recently, we had given one of our detailers a minivan that had been neglected for so long it had maggots and pests in it.  He worked for hours in the hot sun, not once complaining, and made it like new on the inside. Our detailers love sharing their before and after photos with each other, and are not quick to give up on a tough job.  Another example was when a detailer got a boat that was huge and needed oxidation removal all over. Not only did he work all day on it, another detailer came to help when he had finished his own work. This got the job done in good time and made it shine!  After customers leave from in-shop jobs they often come up to me and ask if the customer was happy, which shows how important it is to them.
They communicate with clients
Some companies train their workers to try and sell the most expensive products or sneak in services to charge later.  Our company does not care for this method, and to support that image, our detailers take great care in talking to their customers and clients about the work they are doing and making recommendations on what is best for each situation.
Our detailers talk to you through multiple steps of the process if needed – they will call upon arrival or when on the way if you request it, and they will contact you if they feel your vehicle needs a little extra work.  If you are doing a service like boat or RV detailing, which is hourly, they will discuss how long they believe it will be and tell you about any changes before going through with them. This allows you to say yes or no to a service, and prevents surprise or otherwise unwanted charges.  Our goal is to do our best based on what you want, and if you become a regular customer, you can request the same detailer to come again.  
They work all year
Some people believe we are only open when the weather is good, but this is not entirely true.  Our detailers are prepared to work in all kinds of weather conditions, which allows us to stay open during the winter.  You may be thinking, why would I want to get a detail in the wintertime? We answer that in this blog: https://onsitedetail.net/blog/top-10-reasons-why-its-more-important-to-detail-your-car-during-the-winter/
When hot weather strikes, our detailers know to stay hydrated and keep cool.  In rainy weather, they call ahead to confirm if you still want your detail done and help find ways to make it work.  Snowy weather doesn't deter them either, especially since we have garage areas in-shop that they can work out of if you don't have a garage or other coverage!  Our detailers don't just appear for a few months to work, they stick with us all year, and are more than happy to come out and work in any situation. Even if the weather isn't great, call in!  They'll be eager to make it work and get the job done for you.
We at Onsite Detail could go on forever about our detailers and the good work they do.  Our company would not be possible without them! If you want to thank your detailer for the hard work they do, give them a compliment, leave them a good review on Google or any of our social media, or give them a tip for a job well done- even a small one will get the message across.  Let us know you're looking for a detail through a call or our Request Form, and we will take care of the details!
by Miranda Hughes, Onsite Detail