UTAH'S DETALING SERVICE
FROM COUPES TO SEMI TRUCKS WE ARE FULLY EQUIPPED TO HANDLE BIG AND SMALL DETAILING JOBS FROM INTERIOR CLEANING TO FULL PAINT CORRECTION.
REQUEST APPOINTMENT
What is a waterless car wash?
Posted July 31, 2019 by Chris Blaisdell, Onsite Detail
Have you heard of a "waterless car wash"? So often when we mention a waterless option to a customer we get a confused and/or intrigued reaction. Most people outside of the car wash and detailing world don't know or don't understand what a waterless car wash is. Truth be told, a "waterless" wash is not 100% waterless. It should really be called a "less water wash".
What is a waterless car wash?
A waterless wash is a wash that is done without the aid of a hose, pressure washer or buckets of water. Most of the time a waterless wash is done with no more than a waterless wash solution or chemical in a spray bottle or pressurized sprayer and clean microfiber rags.
Why would you want a waterless car wash?
The point of a waterless car wash is not to avoid using water altogether but to dramatically reduce the amount of water used when cleaning the exterior of a vehicle. The waterless idea comes from the amount of water left over to dry and the amount of water that gets on the ground. With a traditional hand car wash the actual water amount of water used can be as much as 100 gallons without proper knowledge and techniques.  The water left over after the wash process, before drying, can be quite a bit and the run off of soap and chemicals in said water can potentially have a negative impact on the environment.
The federal EPA laws actually prohibit any run off waste water from car washing going down storm drains. It is up to each local jurisdiction to enforce these laws and requirements can vary from state to state and city to city. A waterless car wash is a sure way to not cause any negative environmental harm.
How to use a waterless car wash?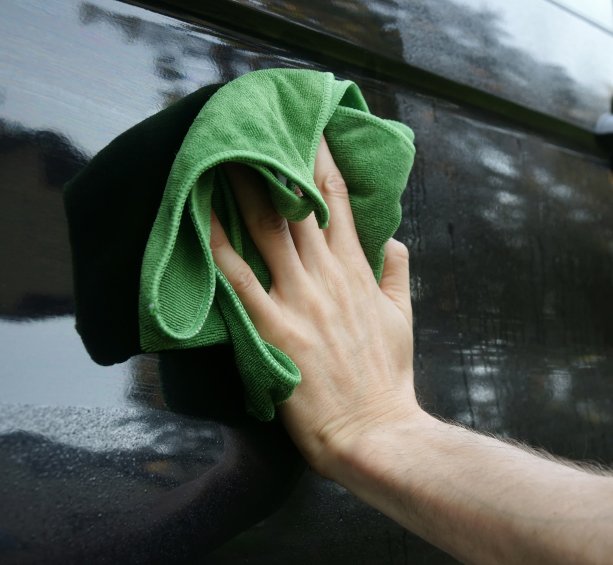 Depending on how dirty the vehicle is and where it is being washed the techniques and procedures can vary. The biggest concern most people have is that a waterless wash does not have the same amount of lubrication as a normal wash would so it has the potential to scratch and scuff the paint. If done improperly the dirt the rag picks up can potentially rub back on the surface of the paint. Although this is not a problem exclusive to waterless car washing. If done properly, each part of the rag only touches the car once or a very limited amount of times. This will just depend on the dirtiness of the car. 
In my many experiences with different waterless wash solutions and chemicals I have learned the two most important things are getting the proper amount of lubrication and making sure to constantly replace dirty microfiber rags with clean ones. This will vary depending on if the car is just slightly dusty or has "caked on" dirt. If the car is on the dirtier side of the scale you'll need to use a greater amount of the waterless wash solution or chemical to safely remove the dirt. Another factor in the quantity of the product needed will be the temperature of the surface and if it is being done in direct sunlight or not. 
This brings up another point. Depending on the conditions in which the vehicle is being washed will determine how much product it will take and how many rags you may need to use. It will also change the workable area on the surface that you can do at the same time. Also be aware that many waterless wash products come with a wax as well so it may streak if not under ideal conditions. 
Right solution in the right situation
Waterless washes are amazing time, money and environment savers in the right situations. Waterless washes are great for quick maintenance in between more thorough washes and details. Waterless wsahes are great for dusty indoor projects and vehicles in storage. They are even great on gel coats and fiberglass finishes such as boats and RVs. Waterless washes are a great way to maintain ceramic coatings and show vehicles.
Future of waterless car washes
I do believe waterless washes play a huge role in the current state of the detailing industry and they play an even bigger role in the future of detailing industry. The technology continues to improve and the processes and techniques continue to be refined. I do not believe waterless washes can fully replace other methods of washing, at least not yet. There are many situations and things a waterless wash alone can not take care so for now traditional washing methods such as hoses, pressure washers and bucket washes are needed. Sometimes combinations of the methods can be used to increase efficiency and results.
by Chris Blaisdell, CD-SV, Onsite Detail
Chris Blaisdell is the owner of Onsite Detail and has been detailing  for 12 + years.
He is a Certified Detailer-Skills Validated detailer through the