UTAH'S DETALING SERVICE
FROM COUPES TO SEMI TRUCKS WE ARE FULLY EQUIPPED TO HANDLE BIG AND SMALL DETAILING JOBS FROM INTERIOR CLEANING TO FULL PAINT CORRECTION.
REQUEST APPOINTMENT
RV Detailing – Washing The Roof
Posted April 16, 2019 by Chris Blaisdell, Onsite Detail
If you've ever had to change a light bulb on a high ceiling, you know how scary it can be, especially if heights are not your friend and/or if you consider yourself uncoordinated. Standing on a ladder and putting all your attention on a ceiling can be risky and a little nerve racking. Well, washing an RV roof is nothing like that but it may be somewhat relatable because most people will probably have more experience changing light bulbs than washing the roof of an RV. There are areas where the washing process can feel a little like that changing out a hard to reach, awkwardly located light bulb. Just like changing a light bulb can be, washing the roof can be a little nerve racking when you are unsure and unprepared to do so.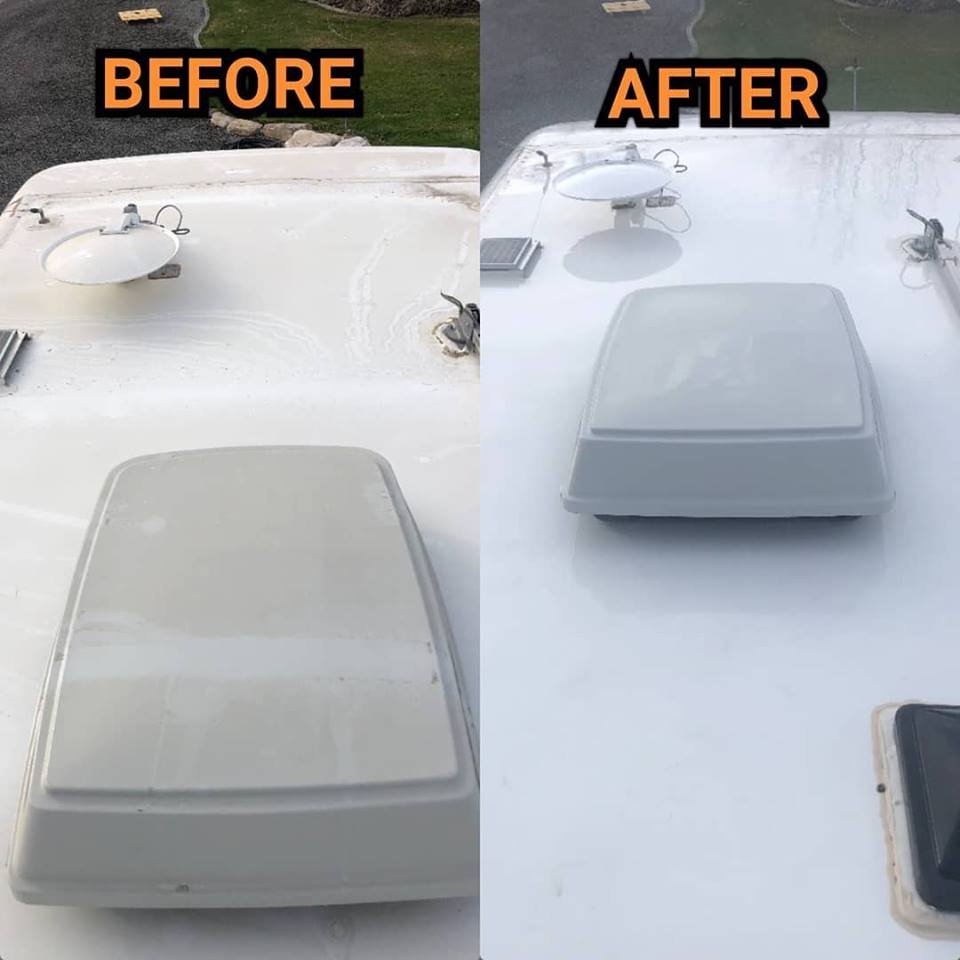 Washing the Roof of Your RV
Put yourself in this situation..if you will – Standing on a wet surface, 12-15 feet up, using a pressure washer (which can screw with your balance if you're not careful), trying to find a way to make sure the pressure washer gun stays on top of the RV while you scrub the roof (can be more tricky than it sounds). All while making sure you have sure footing and watching where you step. As with washing other vehicles, it is best to wash from top to bottom so starting on the roof will be the best place to start. Overtime, the tops of RVs and trailers can get really dirty and even collect dirt and leaves and other contaminants. You can wash an RV without washing the roof but with that comes a disclaimer. The disclaimer is – without cleaning the roof, every time it rains, it will basically just spread whatever is on the roof to the rest of the RV. You will want to make sure all of the air vents and any other openings on the roof are closed. Otherwise, you will be "washing" parts of the RV you were not intending to wash. So going back to my first approach to washing RVs. The roof washing is a vital, but risky (if you are familiar with the proper procedures), part of the RV wash. Possibly even more risky than changing a light bulb…you see what I did there? I compared it to changing a light bulb. Although you could also compare it to hanging out on your roof while it rains. People probably don't make a habit out of doing something like that. Unless you're a crazy person, like the kind of crazy person that gets on top of RVs to wash them. It can be a dangerous and a little scary on a windy day but it is definitely worth it and pays off in the long run. However, if you don't have the proper training and equipment I would say not to do it and call someone who's crazy enough. But who? Who's crazy enough? I'll tell you who..WE ARE!!     
Different RV Roofs
There are different kinds of roofs on RVs (and trailers).  A pretty common material found on many roofs is rubber. Ask your detailer about using a rubber cleaner/protectant when cleaning your roof. A rubber cleaner/protectant will work kinda like a "wax" for your roof. It will protect it from UV rays and other weather elements that damage the integrity of the roof. Another is just a painted or unpainted panel of aluminum or fiberglass with maybe some extra grit for grip in certain areas. This surface can be waxed, sealed or ceramic coated just as any other painted or metal surface. It is very important that proper cleaning chemicals and processes are used to ensure that there is no damage or irreparable mistakes happen and that optimal results are achieved. Another extremely important thing is proper detailing and washing equipment, tools and safety equipment. Which reminds of an interesting story.
Short story. I knew a guy that went to clean a huge RV. When I say huge, I mean as tall as an RV can get, you're looking at about 13 and a half feet tall. He looked up at the monstrous vehicle and wondered if his ladder was any match to this Goliath of a vehicle. Not only was his ladder too short to get to the top but there was also no ladder on the RV to climb to the top. So what did he do? He solved the problem by doing the only reasonable thing he could think of. The van he had driven wasn't in the right spot though. It had to be moved. But where? He got in the van and pulled it within inches of the house on wheels. He got out and looked at what was in front of him and knew what he had to do, the decision had been made and his mind was made up. He climbed on top of the van with the ladder, all while continually telling himself that he would be able to live through this and go to sleep in his bed that night and not at a hospital. He had to set aside his doubts and fears. As with much assurance and confidence as he could, he began to set up the ladder on top of the van. Oddly enough, the further along he got with the progress of his plan, the more comfortable he got with it. Realizing more and more that sometimes the best idea may not be the safest one but onward he pressed. Making sure the legs of the ladder would fit into the grooves of the top of the van he began he ascension to the top of the ladder. Checking the stability of the ladder with every step he eventually got to the top of the ladder and was able to carefully work his way onto the RV. He hadn't really noticed how high he was yet but immediately noticed the gloriousness of world around him. He had a sense of pride rush through him and thought that he could stay up there forever. Which was an intriguing thought considering the amount of effort and time it had taken to get to the top. Now it was time to get to work. He went to grab the pressure washer to start. But where was it? If you're thinking, "he wouldn't have made that long, dangerous journey without bringing the things he needed", you're on the right track. He had completely forgotten everything he needed. He made the long, careful voyage back to earth and grabbed all the things he needed and looked back up at RV Everest and proceeded to do the job he had come to do. Good news, he made it home that night to fall asleep in his bed unscathed.
If you're wondering how I knew the details of this story so well, how I knew what he was feeling and what was going through. Full disclosure, it was me. I'm sure you figured that out but wanted you to see the amount of crazy that we are willing to go through to make sure that the job we are hired to do is accomplished.
This story is an example of why I would not recommend doing it on your own. We love making people happy and would love to help you get your RV ready for the year ahead. Stay tuned for more on properly washing the other parts of your RV. Safe travels.
by Andy Stallings, Operations Manager, Onsite Detail