UTAH'S DETALING SERVICE
FROM COUPES TO SEMI TRUCKS WE ARE FULLY EQUIPPED TO HANDLE BIG AND SMALL DETAILING JOBS FROM INTERIOR CLEANING TO FULL PAINT CORRECTION.
REQUEST APPOINTMENT
Onsite Detail at Mobile Tech Expo Orlando 2019
Posted February 14, 2019 by Chris Blaisdell, Onsite Detail
Another Year gone!
Mobile Tech Orlando 2019 was another great experience for me. This year mobile tech moved into a new venue and education day, the expo and everything was bigger and better. There are some amazing things going on the detailing industry and overall the standards are being elevated for one to call himself or herself a "professional detailer".
I find it amazing as well how one detailer to another are willing to offer help and advice on how to improve themselves. Not just as detailers, or even as business persons but as human beings. I never thought this was possible until I joined the International Detailing Association. It is there that I found a home and like individuals with similar passions and ambitions to see the detailing world unite and lift each other up.
Again this year the education classes were absolutely worth the trip even if there was nothing else going on. The only problem with the education day is that I cannot be in multiple classes at once.
Last year at Mobile Tech I was inspired to continue to learn more, to better myself and my business. Soon after I returned I signed up for the online Certified Detailer exams. After completing those and receiving my certification I decided I would also take the Skills Validated test. Unfortunately there were not many, if any at all, that were close enough for me to attend. So this year at Mobile Tech I signed up early for the SV testing. I was a little nervous before just not knowing what exactly to expect but felt confident in my knowledge and skills as a detailer. I really felt that it was a good experience to go through to help me understand how to better train my own employees.
One of the coolest things about Mobile Tech is the networking with detailers, whether they are a one man show or an owner of multiple detail shops or even a distributor of detailing products or equipment. It is really awesome to see all of these different types of detailers and business people get together and offer up their own wisdom and experience to help each other out and make the whole detailing industry better.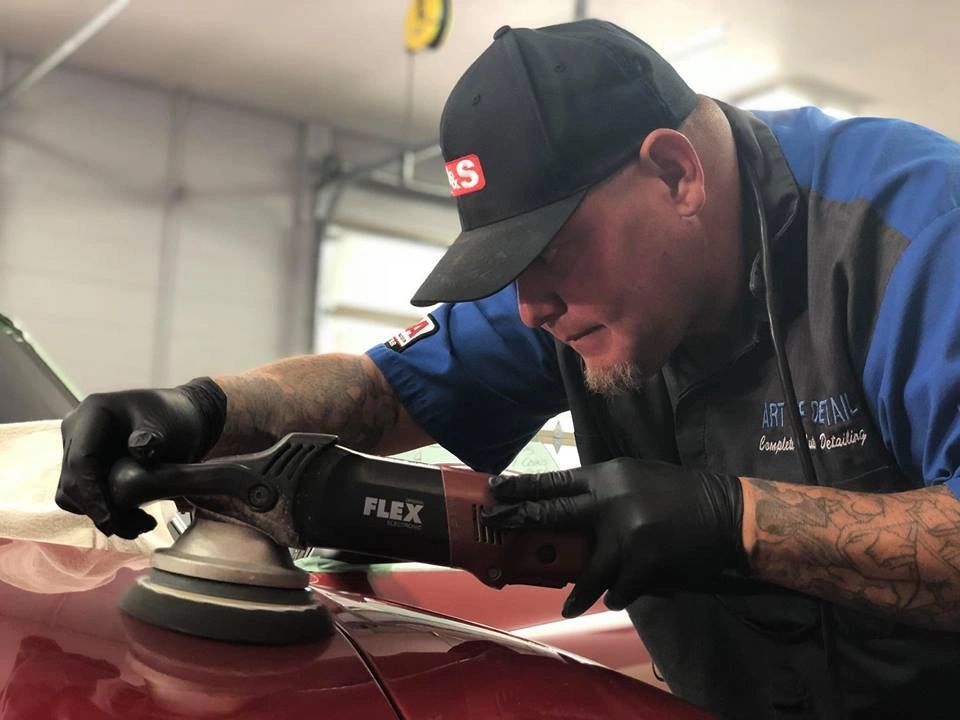 A great example of this was a class given on Friday afternoon by Art Baca who is the owner of Art of Detail in New Mexico. His class was not really detailing relate. He shared a lot about his personal experiences and how and what made him successful. He talked about all the many mentors he has had over the years and how it helped him change his mindset and they way viewed the world. This was an awesome class to be a part of and one of those experiences that makes you rethink the "why" behind everything that you do and helps to make sure you've got your priorities in order.
I was also able to be in a class that was taught by Marty Hill of Total Auto Solutions, DJ Patterson of Eco Green Mobile Detailing and Ben Kaden of Green Cleen A Detail Company. They talked about the impacts of the detailing industry on the environment and the precautions need to be taken and things that can be done to minimize any negative impacts that a detailing operation can have. They also presented some new and innovative ideas and things they are doing to make the detailing industry go "green". It was awesome to see what can be done to kick the use of potential pollution and contamination. We are definitely going to be implementing some of these things here at Onsite Detail.
All Mobile Tech 2019 was a great success for me personally and for the business. This is one of those events that I will not want to miss out on in the future and will always try to make sure I blocked it out in my calendar far in advance.
Thanks to all who I met with and all who helped motivate me and increase my knowledge and skill. I hope to continue to network and work with you in the future.
I hope to all of you at the first Mobile Tech Expo Las Vegas this year!
by Chris Blaisdell, CD-SV, Onsite Detail
Chris Blaisdell is the owner of Onsite Detail and has been detailing  for 12 + years.
He is a Certified Detailer-Skills Validated detailer through the
International Detailing Association. The industry leader in detailing standards.