UTAH'S DETALING SERVICE
FROM COUPES TO SEMI TRUCKS WE ARE FULLY EQUIPPED TO HANDLE BIG AND SMALL DETAILING JOBS FROM INTERIOR CLEANING TO FULL PAINT CORRECTION.
REQUEST APPOINTMENT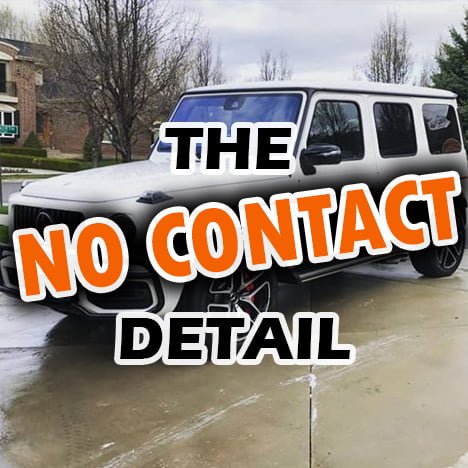 How to Make Your Detail Contactless
Posted April 6, 2020 by Chris Blaisdell, Onsite Detail
Within a matter of weeks we have gone from an outgoing society to an enclosed one, with shops, parks, restaurants and many other places bearing new restrictions or not being open to the public at all.  While we at Onsite Detail have also felt the impact, we are happy to share we are still in operation! Our mobile detailing services are still active and our phone and email lines are open to help you schedule appointments, request quotes, and ask questions.  
Like other companies that come to you, we are also open to Contact-free appointments. This does not mean we don't touch the cars but we can have a no physical contact detail with each vehicle owner. This article will help explain the best ways to go about doing this as well as why detailing during Stay Home Stay Safe may be a good idea for you.
Setting Up an Appointment
When setting up an appointment there are a few different ways to let us know you want your detail to be Contact-Free.
If making an appointment by phone, simply mention it to the person scheduling you.  The scheduler may ask questions like where the vehicle will be, if it will be unlocked, where keys will be for access, and the best way to contact you during the service if the detailer needs to get a hold of you. 
If making an appointment online via the Request Form, simply put in the notes that you would like a Contact-Free service.  We will reply with similar questions to make sure your appointment goes smoothly. Texts, requests through social media and other contacts will likely lead to you being directed to either method of requesting an appointment, as they are our more thorough ways of getting in touch with you.  Our doors will be locked until further notice, so walk-ins will not be available. We apologize for the inconvenience.
Note: If you are asking for a Contact-Free service, we will be restricted to taking card payments.  Cash and checks would likely require some level of contact. If making an appointment by phone we can put a card on your account to use later (it would not be charged until the invoice was reviewed with you).
During the Appointment
The detailer will be notified in advance that you have requested a Contact-Free detail and will text or call you when on the way.  This way you have access to their number if you need to speak to each other. In the case they are not responsive you can call or text the main office line and the at-home administrative staff can help you.
Before the detail, remove any items you would not want the detailer to handle (not as necessary if you are doing exterior-only work).  Check your glove box, cupholders, pockets, under seats and between seats. Remove anything from the trunk. If items are left, the detailer will handle them with a separate set of gloves and set them aside.  
The detailer will call or text you during the appointment with questions or to tell you their progress, so keep your phone available and charged- some appointments can last a few hours. 
After the Service
When done, the detailer can review the cost of the service with you by phone.  If you have a card on file feel free to let them know they can charge it. If there are any issues you can call us at the main office line and we will gladly assist you.  In the rare case that there is an issue with the service, you can text photos to the same office number and we will help you get them resolved.
Alternatives and Why Detail Now
We understand that even if you're staying at home scheduling a detail can be one more hassle you don't want to deal with right now.  If you are considering a service but don't want to schedule right away or know someone who could use a detail but is too busy to call, consider buying yourself or a friend a Gift Certificate.  (Gift Certificates for vehicle details can make a great gift for those working on the front lines like healthcare workers, grocery store employees, and other essential workers.) 
In this pandemic our cars are more valuable than ever.  They help transfer us to medical centers, drive thrus, and our jobs in the cases of essential workers.  Vehicles are a safe way for us to mobilize when being around others isn't safe. Keeping them clean not only helps us stay healthy physically, it helps us stay healthy mentally.  This time is stressful enough- let us take care of the details.  
We at Onsite Detail ask that you stay safe, and we hope to hear from you soon!
by Miranda Hughes, Onsite Detail