UTAH'S DETALING SERVICE
FROM COUPES TO SEMI TRUCKS WE ARE FULLY EQUIPPED TO HANDLE BIG AND SMALL DETAILING JOBS FROM INTERIOR CLEANING TO FULL PAINT CORRECTION.
REQUEST APPOINTMENT
How often should you have your vehicle detailed?
Posted March 23, 2018 by Chris Blaisdell, Onsite Detail
How often should 
you have your
 vehicle detailed?
The average vehicle
For the average vehicle, a detail at the very least, once a year is recommended. I would actually recommend getting a car detail 2 to 6 times a year. We have many clients who get a detail done every month to keep their vehicle(s) to where they want them to be. This would be a very in-depth interior and exterior cleaning and protection. Most of the vehicles we see have gone way too long without proper care and can no longer be detailed back to their former glory. Besides a deep cleaning and protection, a vehicle requires regular maintenance washing and cleaning with a regular protection application of wax or paint sealant to stay in "like new" conditional as much as possible. Even ceramic coated vehicles need the proper care to avoid damage and problems. 
Other things to consider
Other things that affect how often a vehicle should be detailed are, but not limited to;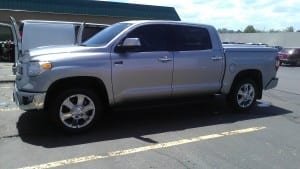 How much the vehicle is being used.

 
What it is being used 

for. (work, racing, hauling kids around, etc.)

 
What kind of vehicle it is. (daily driver, classic, 

exotic

, etc.).

 
If pets are allowed in the vehicle or not.

 
Where the vehicle is parked.

 
Climate the vehicle sees or what weather conditions it goes through.

 
Personal

 cleanliness preferences.

 
Other personal preferences.

 
Using a vehicle as a daily driver or a work truck will mean that detailing is needed more frequently to keep it in its best condition possible. 
Weather will also play a role in how clean or dirty a vehicle gets. During winter months in Utah salt is used on the roads to melt ice and keeps roads safe. Unfortunately, this salt will also stick to vehicles and begin to eat away at the paint and other services. The vehicle that goes through this should actually be washed and protected more often in the winter than in the warmer time of the year. 
Many people just prefer driving in a clean car and not having to deal with a mess.  
Annual Detailing Packages
Many people like to have their vehicle scheduled for regular detail services. That takes the hassle out of trying to get it done when you are busy with life or just waiting until damage has occurred. 
Check out our annual detailing packages to see what we can do for you. 
By Chris Blaisdell, CD, from Onsite Detail