UTAH'S DETALING SERVICE
FROM COUPES TO SEMI TRUCKS WE ARE FULLY EQUIPPED TO HANDLE BIG AND SMALL DETAILING JOBS FROM INTERIOR CLEANING TO FULL PAINT CORRECTION.
REQUEST APPOINTMENT
What are some benefits of headlight restoration?
Posted September 16, 2021 by Josh Hart, Onsite Detail
Some may ask, what is headlight restoration? It is the process in which headlights are refinished when discolored due to excessive oxidation that builds up over time causing haze on the lens. This could be caused from the sun, heat, other weather elements, road debris, and some chemicals used on the headlights. You'll see this when headlights begin to yellow or fade.
The Benefits of having your headlights restored include:
Removes oxidation

Removes light scratches 

Increase visibility and safety 

Helps maintain the value of your vehicle 

Save you money on purchasing new headlights
These are only a few reasons why restoring headlights is beneficial to you and your vehicle!
Headlight restoration is very important when it comes to safety! Having oxidation on your headlight will cause visibility issues both to you and other vehicles on the road.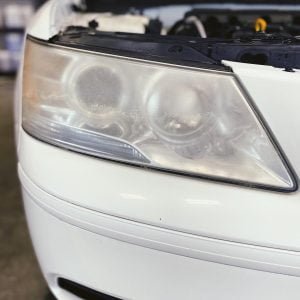 How long will headlight restoration last?
Restoring the headlight will last six months to one year depending on what conditions the headlights see. Once that time is reached, the oxidation will not be as severe and can easily be removed with a buffing compound.
We also offer a 5 year Transparent Headlight Warranty for only $99 on top of the restoration cost to give your headlights the best protection possible. With this warranty we also install a ceramic coating over the headlights to ensure maximum protection.
by Josh Hart, Onsite Detail