UTAH'S DETALING SERVICE
FROM COUPES TO SEMI TRUCKS WE ARE FULLY EQUIPPED TO HANDLE BIG AND SMALL DETAILING JOBS FROM INTERIOR CLEANING TO FULL PAINT CORRECTION.
REQUEST APPOINTMENT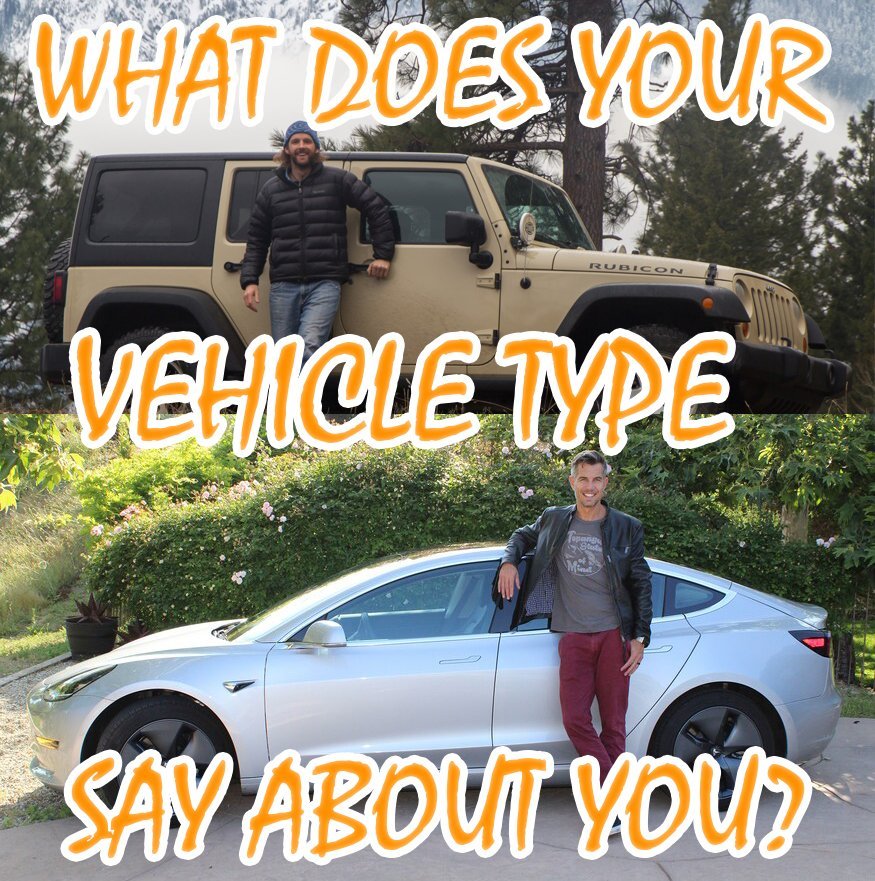 What Your Vehicle Type Says About You
Posted September 30, 2019 by Chris Blaisdell, Onsite Detail
As detailers we service all kinds of vehicle types, and therefore meet all kinds of people.   While pondering this the other day, it struck me how there are some similarities between the kinds of vehicles people have and the kinds of people they are.  Many people share hobbies or lifestyles that can lead to why we are detailing their vehicle. So while this blog is less than scientific and is in fact made mostly of one receptionist's observations, I thought it might be amusing to match the kind of person to the kind of vehicle they have us detail.  Are you one of these people? Let us know in the comments! In the meantime, enjoy this light-hearted blog. We also found this fun online survey "What Your Car Says About You Quiz" for you to try out.
Four-Wheel Drive and Off-Road Cars
Whether it's a Jeep or Subaru, when people call in wanting these detailed, we often are working with people who love to explore the parts of Utah that are not easy to reach!  Many times they need help cleaning the dirt and mud from the outside, or taking care of scratches from low-hanging tree branches. These are the kind of people who like to be prepared for anything, and many of them commute long distances in the dusty Utah highways and gravel roads.  It's no wonder those kinds of cars are popular, and we love taking care of them for you!
Our Recommendation: Consider our Basic Exterior Detail for your car.  It will help not only remove damage and dirt, but help protect your vehicle for years to come!  And do not forget to winterize with our Wash & Wax!
Small Cars
Smart cars and sedans and coupes, oh my!  Typically the people who have these work in the city or other busy areas where smaller cars are ideal for parking and efficiency.  That doesn't mean they're all business types, however. Items in these vehicles show that their drivers live colorful lives of all professions and family sizes, from teachers whose trunks are full of projects to grandmothers who keep child car seats in the back for their grandkids.  These drivers are on the go almost all of the time!
Our Recommendation: On-the-go means not having tons of time, so why not treat yourself to our Express Inside & Out?  In less than an hour we can have your car back to cleaned without risking the damage and swirl marks of a car wash!
Cars With Three Or More Rows of Seats
These drivers are often caregivers of some kind, whether they drive a classic large-family minivan or a 14-Passenger van for a special commuter service.  We are often meeting them at their homes or workplaces so they can keep dealing with the wonderful chaos their profession brings (or take a well-earned break from their heavy workloads).  Some of these even include cargo vans, such as a recent catering service wanting their vans cleaned, and we are more than happy to keep your on-the-go vehicles clean and healthy for you and your crew!  
Our Recommendation: You're carrying a lot of people constantly, and people by nature are messy!  Our Interior Detail service can take care of the worst messes, from food spills to accidents. We can take care of those details!
RVs, Motorhomes, and Boats
Half of the time these people are not from Utah, and the other half are Utah natives who know the best spots to go on vacation.  These people know the value of traveling and breaking away from the everyday, and they invest in it- usually with big toys like their boats and RVs.  When we're called in, we are often cleaning after a long adventure or while someone is en route to their next destination. We also help prepare vehicles for storage, preventing long-term expensive damage like rust!
Our Recommendation: Constant travel means constant hazards hitting your windows, so why not reduce the strains of cleaning them by having us install Glassparency to it?  It improves visuals, makes things like bugs and hard water easy to clean, and comes with a 3-Year Warranty!
Business Vehicles
From up-and-coming Lyft & Uber drivers to businesses with work trucks, these workers are expected to keep their vehicles clean for customer satisfaction.  But working means you don't always have time to do it yourself, and some messes are consistent because of the work they do. An example of ours is working for companies that work construction but need the extra cleaning to keep up both appearances and vehicle health.  Thankfully our mobile services can help us go to you, and we work with fleets all the time! Don't wait to give us a call and sort out how we can best work with your situation.
Our Recommendation: For the one-time Lyft driver or repeat fleet service, we recommend our Full Combo Detail.  Not only does it cover the inside and outside well, it also comes with a bonus Engine Detail!  
Our Return Customers
These are people who support our business because of their preference for clean and detailed vehicles, and we are thankful for them.  From those who request us once a year to our biweekly friends with annual packages, these people come from all walks of life and have different needs.  They add all kinds of interesting requests to our roster, and we hope we do them proud by giving the best work we can do.  
No real recommendations for these folks, only our heartfelt gratitude for their trust and requests for our services!  You support a small business in choosing us!
Did you relate to any of these descriptions?  I would love to hear how accurate I was, and what your ride says about you if I was not!  Leave a comment below, and if you would like to use our services you can fill out a Request Form!  We look forward to meeting you and servicing your vehicle. Thank you for reading!
by Miranda Hughes, Onsite Detail