The VAC AND SHAMPOO includes: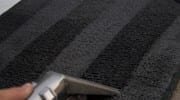 VACUUM The vehicle is thoroughly vacuumed, including seams in upholstery and leather, under seats and in between seats to ensure heavier dirt and debris are removed.
SHAMPOO Stains are pre-treated. The carpet, mats and seats are steam cleaned or shampooed, scrubbed and extracted as necessary.
WIPE DOWN The dash, center console, cup holders and door panels are quickly wiped down.
WINDOWS The interior windows are cleaned and polished streak free.
*Extra fee for excessively dirty vehicles, pet hair, pet mess, vomit, mold/mildew, rotten food, gasoline or paint spill, etc.
Please let us know if your vehicle has an issue such as these so we can make sure to schedule enough time and be properly prepared to remedy the issue.
$99 SMALL
$109 MEDIUM
$119 LARGE
$129 XL

We accept cash, check and cards as form of payment. Prepayment or an Appointment Deposit is required to schedule a service unless otherwise stated. You may pre-pay for service or buy online to purchase a gift certificate.