The CLAY BAR TREATMENT includes: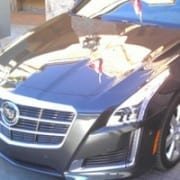 CLAY BAR TREATMENT
Our Clay Bar Treatment cleans the paint surface. Some contaminants grip, even penetrate the clear coat. We safely remove these contaminants from the paint and leave your vehicle's paint feeling slick and smooth.
Vehicle will need to be washed prior to treatment.
A protective paint sealant is recommended after to keep your vehicle's paint protected and looking its best.
Price may vary depending on size and condition of vehicle. Depending on condition of paint, additional time and steps may be needed to complete the Clay Bar Treatment.
Call us for a free quote or questions.
$45 SMALL
$55 MEDIUM
$75 LARGE
$99 XL

We accept cash, check and cards as form of payment. Prepayment or an Appointment Deposit is required to schedule a service unless otherwise stated. You may pre-pay for service or buy online to purchase a gift certificate.