UTAH'S DETALING SERVICE
FROM COUPES TO SEMI TRUCKS WE ARE FULLY EQUIPPED TO HANDLE BIG AND SMALL DETAILING JOBS FROM INTERIOR CLEANING TO FULL PAINT CORRECTION.
REQUEST APPOINTMENT
MOBILE CERAMIC COATING IN WASHINGTON COUNTY, UTAH
What is Ceramic Coating
Ceramic coatings act effectively as a protective layer similar to placing a layer of glass over the paint of your vehicle. When a ceramic coating is applied to the exterior of your automobile, it creates a permanent or semi-permanent bond to the paint. As a result, the ceramic coating becomes fused to the paint and will not wash away. This will help save you time, money and labor down the road since you will no longer need to repeatedly clean the exterior of your automobile.
Why Onsite Detail St. George For Your Ceramic Coating
There are a multitude of auto detailers and ceramic coating professionals to choose from in and around St. George. This invariably leads to an important question, "Why choose Onsite Detail for your St. George, Utah ceramic coating?" Here are just some of the reasons to go with OnSite Detail – we work tirelessly to go above and beyond for each and every one of our customers. Our team of ceramic coating professionals achieve this by providing more than just detailing and ceramic coating. Our goal is to provide an overall gratifying experience that emphasizes ease and efficiency. That is why we have been in business for more than a decade and have earned a sterling reputation in St. George and throughout Utah as a top-notch automobile detailer, including being recognized as preeminent in paint protection in St. George.
Professional Ceramic Coating Process
Onsite Detail invests time, energy and resources into providing a professional ceramic coating process for each of our customers. We make every effort to complete the ceramic coating process in a timely manner while never compromising on quality. Our main goal is to ensure that, once the ceramic coating is installed to your vehicle, it looks like you just drove it off the lot.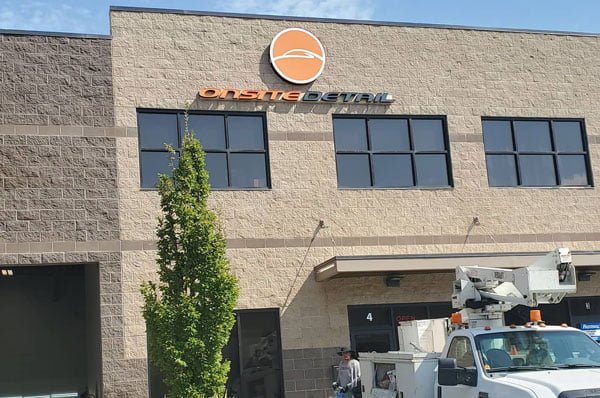 Our Ceramic Coating Products
Onsite Detail offers a cutting-edge "9H" ceramic coating product to all customers. St. George residents will be supremely impressed by the quality of our 9H ceramic coating. The pristine look provided by our 9H ceramic coating product is primarily due to its highly concentrated silicon dioxide compounds contained within the 9H ceramic.  As a result, the nano-technology within our 9H ceramic coating provides a superior level of protection for your vehicle. The innovative formulation within our 9H ceramic enables the compounds to penetrate and eradicate any microscopic imperfections, cracks, and porous surface elements of your automobile. 
Mobile service; Let Us Visit Your St. George Home
Are you extremely busy to the point where you do not have time to visit our shop? We get it. As a St. George detailer who has been in business for over a decade, we respect your time and understand you do not want to spend an entire day, or even an afternoon, sitting in a waiting area for your vehicle to be detailed. Many residents in St. George and elsewhere in Utah do not have the time to make the trek out to our shop to have a ceramic coating added to their vehicle. As a result, Onsite Details offers an efficient and effective mobile service to customers residing in the following localities:
Salt Lake County

Utah County

Davis County

Washington County

Park City
Benefits of Ceramic Coating
When you add ceramic coating to your vehicle, it is reasonable to expect some or all of the following benefits: 
Increase in the overall value of your vehicle

Protection from the damage associated with UV ray exposure

Enhanced protection for battling the elements such as snow, ice, rain, heat, and so forth

Less time spent on upkeep of your automobile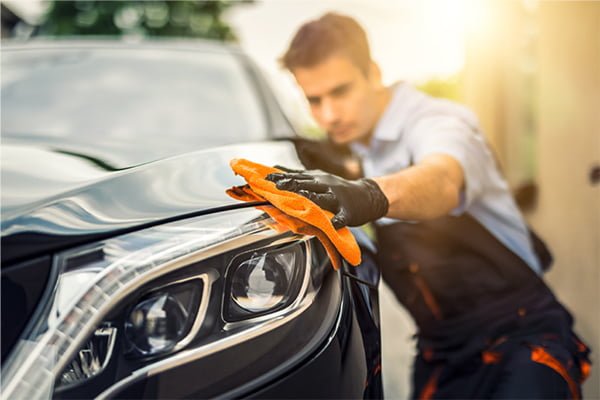 How to Prepare for Your Ceramic Coating
Properly preparing your vehicle for a ceramic coating is absolutely critical. Why? Because if you rush the prep process, it creates the risk that contaminants get trapped and wind up being encapsulated on the exterior just beneath the ceramic coating. This is not the outcome you want, which is why it makes sense to have a St. George ceramic coating professional take the steps necessary to prep your vehicle for the ceramic coating. 
Onsite Detail takes the following steps to properly prepare your automobile before even considering adding ceramic to the exterior:
Initiate a deep wash of the exterior of your vehicle in order to remove any surface contaminants such as dirt, grime, and other elements. 

Once the deep wash is complete, we clay the paint of your automobile to ensure any surface contaminants are completely removed. 

Once the clay is taken off, the next step is to polish the exterior of your automobile to help correct any noticeable imperfections and perfect the paint finish. 

Complete a full wipe down of the exterior with the goal of removing any oils, silicones, and/or waxes that may be remaining on the surface of your automobile. 

Once the surface of your vehicle is thoroughly washed and cleaned, our team will proceed with the ceramic coating process.
Contact Our St. George Professionals Today
Contact our St. George professionals today by filling out a quick contact form on this page or you can call 801.412.9274. Our team of ceramic coating St. George professionals are ready and able to get to work on your vehicle and will respond as quickly as possible to your contact submission. Please note that if you fill out our contact form, your appointment is not scheduled until you receive a confirmation from our office. 
We look forward to serving you. 
30 YEARS OF EXPERIENCE. WE'RE COMMITTED TO SERVING YOU.
Schedule an appointment with us today!
Schedule an Appointment