UTAH'S DETALING SERVICE
FROM COUPES TO SEMI TRUCKS WE ARE FULLY EQUIPPED TO HANDLE BIG AND SMALL DETAILING JOBS FROM INTERIOR CLEANING TO FULL PAINT CORRECTION.
REQUEST APPOINTMENT
MOBILE CERAMIC COATING IN DAVIS COUNTY, UTAH
WHAT IS CERAMIC COATING?
Ceramic coatings are effectively a layer of protection akin to that is like a layer of glass over your vehicle's paint. A ceramic coating is applied by hand to the paint of the vehicle and creates a permanent or semi-permanent bond to the vehicle's paint. In other words, a ceramic coating does not wash away and does not need repeated application every few months. The ceramic coating provides a protective layer that is generally more durable than the clear coating on most vehicles.
WHY ONSITE DETAIL IN DAVIS COUNTY
There are plenty of automobile detailers in and around Davis County to choose from, so it begs the question, "Why should you select Onsite Detail for ceramic coating in Davis County?" Here is the answer: Onsite Detail goes above and beyond for each of our customers and provides more than just detailing and ceramic coating. Our goal is to provide an overall gratifying experience that emphasizes ease and efficiency. That is why we have been in business for more than a decade and have earned a sterling reputation in Davis County and throughout Utah as a top-notch automobile detailer, including being recognized as preeminent in paint protection in Davis County.
PROFESSIONAL CERAMIC COATING PROCESS
Onsite Detail takes pride in our work and utilizes a professional ceramic coating process that will ensure your vehicle looks like you just drove it off the lot. Our professional ceramic coating process affords customers the peace of mind that their vehicle will maintain a clear and eye-catching appearance for the foreseeable future.
TOP-GRADE CERAMIC COATING PRODUCTS
Onsite Detail offers groundbreaking "9H" ceramic coating to all customers. Davis County residents will be amazed by our 9H ceramic coating since it contains highly concentrated compounds comprised primarily of silicon dioxide.  This version of ceramic coating provides a superior level of protection via nano-technology. The cutting-edge formulation of 9H allows the ceramic compounds to get into all of the tiny imperfections, cracks, and porous surface elements of your vehicle to provide stellar, unparalleled protection.
Mobile service; Let Us Visit Your Davis County Home
In addition to offering in-shop detailing service to customers in Davis County, you have the option to schedule a professional wash and detail at your Davis County home, office, or other location. The mobile detailing service provided by Onsite Detail offers the ultimate convenience for busy individuals who cannot make it to our shop. We understand how busy life can be, which is why we are proud to offer the mobile option to customers residing in: 
Park City

Salt Lake County

Utah County

Washington County
Our mobile detail vans come fully equipped and are able to handle an array of detailing jobs, ranging from a sedan to a full fleet of vehicles that need a top-notch detail. Every Davis County detailer with our company is trained and able to effectively work on cars, trucks, SUVs, boats, motorcycles and even airplanes. We can handle just about any job at the location of your choosing.
Benefits of Ceramic Coating
Ceramic coating provides the following benefits: 
Potential increase to the overall value of your vehicle

Enhanced protection from exposure to potentially harmful UV rays

Enhanced protection from natural elements such as ice, wind, heat, etc. that can adversely impact your vehicle

Easier to clean and maintain due to the hydrophobic nature of the ceramic coating

An aesthetically-pleasing mirror-like gloss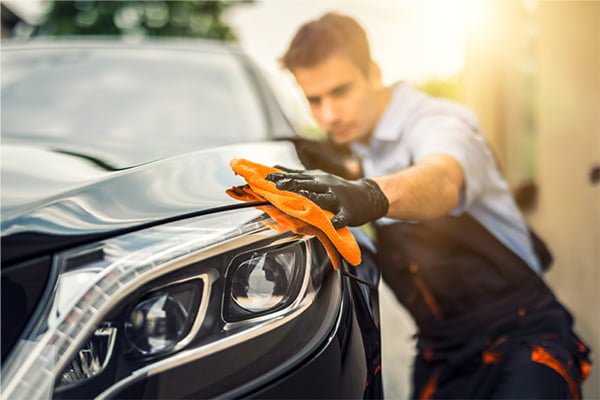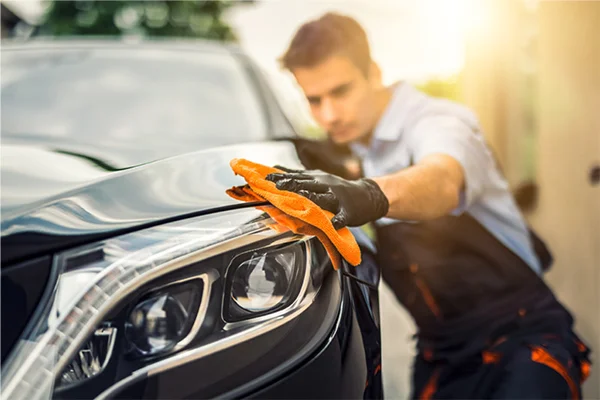 How to Prepare for Your Ceramic Coating
The process for preparing your vehicle for ceramic coating begins with a thorough, proper washing. Once the surface of your vehicle is clean, it is extremely important to clay the paint of your vehicle to ensure any surface contaminants have been removed completely. This is necessary because, if not properly removed, any contaminants underneath your ceramic coating could wind up being locked under the coating for years.
Once the clay is removed, the next step is to polish the paint on your vehicle in order to correct any imperfections and perfect the finish on your paint. 
After the surface of your vehicle is properly washed, cleaned and perfected, the final step prior to initiating the coating process is to complete a deep cleansing wipe-down in order to remove any oils, waxes or silicones that may still remain on the surface of your vehicle. Once the wipe-down is done, the coating process will begin.
Contact Our Davis County Professionals Today
Ready to begin? Take action today by filling out the quick contact form on this page or by calling 801.412.9274. Our team is ready to get to work and will respond as quickly as possible to your inquiry. Please note that if you fill out our contact form, your appointment is not scheduled until you receive a confirmation from our office. 
We look forward to serving you. 
30 YEARS OF EXPERIENCE. WE'RE COMMITTED TO SERVING YOU.
Schedule an appointment with us today!
Schedule an Appointment