The FABRIC PROTECTION includes: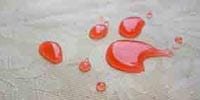 FABRIC PROTECTION
Applied after shampooing. Usually 1 day after.
All fabric/carpet must be 100% dry before.
Provides protection from spills & stains.
An area is defined as:
A mat & carpet underneath or 1 seat.
*Vehicle needs to be cleaned prior to application.
Please call with any questions.
$195 SMALL
$269 MEDIUM
$349 LARGE
$429 XL
or $39 PER AREA

We accept cash, check and cards as form of payment. Prepayment or an Appointment Deposit is required to schedule a service unless otherwise stated. You may pre-pay for service or buy online to purchase a gift certificate.