The EXPRESS INSIDE & OUT includes: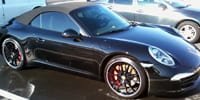 VACUUM The vehicle is thoroughly vacuumed.
WIPE DOWN The dash, center console, cup holders and door panels are wiped down.
HAND WASH The exterior is pressure washed to loosen and remove any heavy dirt or debris if necessary. We also have "waterless" washes available if needed. Soap and cleaners are applied and lightly scrubbed with a microfiber hand mitt to remove any other grime. Bugs, grime and tar are removed. Wheels, wheel wells and rims are degreased and cleaned. The entire exterior is rinsed. The exterior is hand dried and shined. The tires are dressed.
WINDOWS The windows are cleaned and polished streak free.
$59 SMALL
$69 MEDIUM
$89 LARGE
$99 XL

We accept cash, check and cards as form of payment. Prepayment or an Appointment Deposit is required to schedule a service unless otherwise stated. You may pre-pay for service or buy online to purchase a gift certificate.