The WASH AND WAX includes: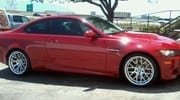 HAND WASH The exterior is pressure washed to loosen and remove any heavy dirt or debris if necessary. We also have "waterless" washes available if needed. Soap and cleaners are applied and lightly scrubbed with a microfiber hand mitt to remove any other grime. Bugs, grime and tar are removed. Wheels, wheel wells and rims are degreased and cleaned. The entire exterior is rinsed. The exterior is hand dried and shined. The tires are dressed.
HAND PAINT SEALANT Better than wax, our paint sealant uses binding polymer monomer technology to produce a water beading, brilliant, long lasting finish. It is applied to all paint and chrome surfaces. It includes UV Protection – it has a combination of a UV filter and UV stabilizers. It has a surface migrating molecule that attaches to the paint surface of a vehicle. Once attached this molecule cross-links and polymerizes on the surface thus building a hydrophobic durable layer of protection. It is evenly hand polished to a shine for great protection. It gives approximately 3 to 6 months of protection.
WINDOWS The exterior windows are cleaned and polished streak free.
$65 SMALL
$79 MEDIUM
$95 LARGE
$105 XL

We accept cash, check and cards as form of payment. Prepayment or an Appointment Deposit is required to schedule a service unless otherwise stated. You may pre-pay for service or buy online to purchase a gift certificate.