The EXTERIOR HAND WASH includes: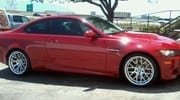 HAND WASH The exterior is pressure washed to loosen and remove any heavy dirt or debris. Soap and cleaners are applied and lightly scrubbed with a microfiber brush or mitt to remove any other grime. Bugs, grime and tar are removed. Wheels, wheel wells and rims are degreased and cleaned. The entire exterior is rinsed. The exterior is hand dried. The tires are dressed.
This is an ADD ON service. May not be scheduled without another service or multiple vehicles.
$35 SMALL
$45 MEDIUM
$55 LARGE
$65 XL

We accept cash, check and cards as form of payment. Prepayment or an Appointment Deposit is required to schedule a service unless otherwise stated. You may pre-pay for service or buy online to purchase a gift certificate.