BUFFING, POLISHING & PAINT CORRECTION includes:
BUFFING, POLISHING
& PAINT CORRECTION
Buffing, polishing & paint correction refers to the process of removing the imperfections in your vehicle's painted surfaces and restoring it. These imperfections include, swirl marks, scratches, water spots, bird dropping etching, holograming, and more. The only true way to remove scratches in your vehicle's paint is with the process of paint correction. Once the paint has been smoothed and leveled, the scratches are gone, but it does require proper maintenance to keep your car looking great after the detail to avoid putting new scratches into your paint.
*No minimum number of hours are required.
*Hourly service, price may be capped.
Please contact us with any questions.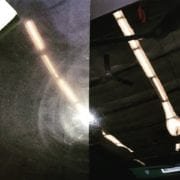 We accept cash, check and cards as form of payment. Prepayment or an Appointment Deposit is required to schedule a service unless otherwise stated. You may pre-pay for service or buy online to purchase a gift certificate.