Onsite VIP Detail
6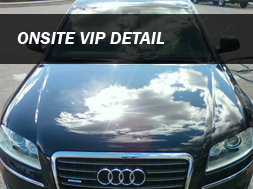 INTERIOR DETAIL The vehicle is thoroughly vacuumed. All cup holders, pockets, cracks and crevasses are cleaned out using a steamer. Stains are pre-treated. The carpet, mats and upholstery are shampooed, scrubbed and extracted. The headliner cleaned as needed. All the vinyl is cleaned, dressed and UV protected. All the leather is cleaned and conditioned. The door jambs are wiped clean. The interior windows are cleaned.
ENGINE DETAIL The engine is degreased and washed to remove all the loose grease, dirt and dust. Everything is wiped dry. The metals are shined. All the plastic and rubber is dressed and protected. This includes cleaning the underside of the hood.
HAND WASH The exterior is pressure washed to loosen and remove any heavy dirt or debris. Soap and cleaners are applied and lightly scrubbed with a microfiber brush or mitt to remove any other grime. Bugs, grime and tar are removed. Wheels, wheel wells and rims are degreased and cleaned. The entire exterior is rinsed. The exterior is hand dried and shined with microfiber towels. The tires and plastic on exterior are dressed. The exterior windows cleaned.
CLAY BAR TREATMENT All painted, glass, and chrome surfaces are given a thorough clay bar treatment to remove contaminants that have embedded themselves into the paint and have made it feel rough. Most areas can and will be restored to a very smooth looking and feeling surface.
WAX/PAINT SEALANT A polymer carnauba wax or polymer paint sealant is applied with machine to all painted and chrome surfaces. It is evenly hand polished to a shine for great protection. It gives up to 6 months of protection. The exterior windows are cleaned.
PLASTIC RESTORATION All exterior plastic and rubber are treated with a honey-like conditioner that get absorbed and restores it to its original color and protects it from further damage from the elements. This process is done by hand to ensure all areas are restored evenly.